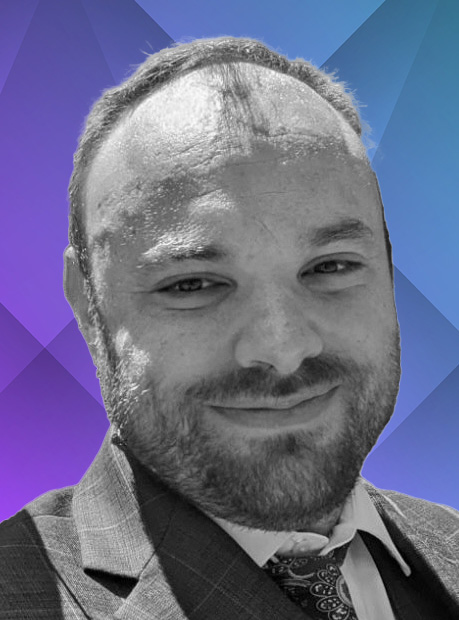 Hi Jason, we know you've got an impressive educational background, but please share the details with our clients.
I have 2 degrees in Computer Science & Engineering from the University of Florida in the first half of the 2000's: an undergraduate degree and a master's degree focusing on Artificial Consciousness. My undergraduate degree featured a thesis on Dynamic Flash with XML in 2003, while my multi-disciplinary master's focused on Artificial Neural Networks, Computational Neuroscience, Psychology, Meditation, and Linear Algebra. I needed to learn Linear Algebra to understand neural topology, but coincidentally it also forms the basis of all 3D engines, so when I finally entered the real-world, 3D on the web became a natural niche. 
Wow! OK how about your previous professional experience? And please highlight roles that have equipped you with the necessary skills for your current position as our XR Manager.
After learning the ropes of Flash, I worked for nearly 10 years as a head of development and R&D at a boutique agency in Reading, PA called Neo-Pangea. In my time there, I went from the first hire to leading development on dozens of award-winning experiences, usually by combining top-tier design with unique functionality and animation. After leaving to form my own XR consultancy called VeeR Goggles, I found Kris Jackson (CrossTrainer's present day lead XR artist) and began to team up with him on local projects, and in 2019 we teamed up with Brian to form CrossTrainer Mixed Reality. After some early successes, the pandemic and a number of family issues caused me to leave, both CTMR and Reading, and begin working remote enterprise programming jobs to build my lead enterprise experience. However, after almost 3 years of growth and modernization of my development processes, I am returning to CrossTrainer with a renewed optimism for the future of spatial computing.
We are thrilled to have you back with CrossTrainer in this new role. How about any notable accomplishments, projects, or awards that demonstrate your expertise and achievements in the field?
Some noteworthy projects I worked on included a national AR campaign in 2008, a 2012 SXSW Interactive finalist for a robotics project with synced live-streaming, a 2016 SXSW Interactive winner for a Three.js WebVR site, and 2 Creative Arts Emmy nominations in 2014 & 2015 for edutainment experiences. My proudest award though came from the 2019 MIT Reality Hack, where I led VR development on a VR/AR/print/PC get-well card that won the Best in Show award for Mixed Reality, and following a Creator Tools award in the 2022 MIT Reality Hack I figured it was time to join the org team and give back.
The MIT Hackathon must be an amazing showcase of brainpower and talent. For those of us who will never see the inside of a hackathon, can you tell us a bit more about the event and your role?
The MIT Reality Hack has grown from a small MIT Media Lab event to one of the largest XR hackathons in the world, with hundreds of participants coming from nearly every continent. More than that though, it has always strived to keep a social, human focus in a space that it is so often lacking. Another unique aspect of the hackathon is that the teams are required to be composed of strangers, forcing for new perspectives to emerge and quick friends to form. Last year I helped develop the front-end React of the website, and this year I hope to be able to integrate more WebXR into the site, as well as step up my mentorship role. It will be easier when it's in line with my job, and not just a hobby I love 🙂
Click to schedule a time to meet with Jason to discuss your next Mixed Reality project.

Posted by Brian Boyle,
10/06/2023