FOR IMMEDIATE RELEASE
Contact Jess Santucci
JSantucci@goggleworks.org
READING, PA – GoggleWorks Center for the Arts (GoggleWorks) and its VR partner CrossTrainer Mixed Reality (CTMR) announced today that they have teamed up with Penn State Health St. Joeph Medical Center and Penn State Berks LaunchBox to design a virtual reality (VR) program which helps medical staff withdraw blood from patients suffering from anxiety or post-traumatic stress.
"Research reveals that immersive technology provides boundless opportunities for patient care," said Levi Landis, Executive Director of GoggleWorks. "This project embodies our aim to transform lives through unique interactions with art. It pairs a talented design team with expert medical staff to aid research and overcome serious challenges for vulnerable patients."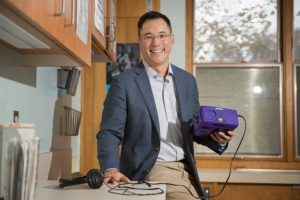 Dr. Jerry Lee, pediatric physician at Penn State Health St. Joseph Medical (St. Joseph), achieved positive results from testing VR software in a situation where a child resisted immunization and blood withdrawal due to a history of trauma. GoggleWorks and CTMR learned of his story and began to brainstorm ways to support this innovative approach. "Studies show that sensory distraction can reduce pain and discomfort for patients," said Landis. "Our VR managers are among a vanguard of artists creating immersive experiences that flood a user's senses with lifelike yet surreal sights and sounds. We saw the perfect opportunity to apply their fantastical design approach to serious, real-world challenges."
The GoggleWorks staff convened a team of collaborators including Dr. Lee's medical staff and leaders from Penn State Berks LaunchBox, luminaries of STEM and entrepreneurship initiatives who operate a makerspace inside GoggleWorks. "We are thrilled for the opportunity to partner with GoggleWorks to expand Dr. Lee's work with VR therapies at St. Joseph Downtown Campus. This project aligns with our goal of connecting entrepreneurs, clinicians, and researchers to advance medical innovations in Reading," said Lisa Weaver, Social Entrepreneurship Specialist at the Berks LaunchBox.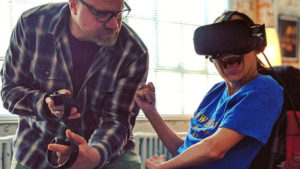 The VR Lab at GoggleWorks operates differently than the eight other large teaching studios on its campus in downtown Reading, PA. The studio is managed by artist-technologists Kris Jackson and Jason Morris, Co-Founders of CrossTrainer Mixed Reality (CTMR). CTMR provides training and learning programs for clients, including Fortune 500 companies. For the nonprofit art center, Jackson and Morris implement After School Arts Programs (ASAP), summer camps, art therapy, installations, and outreach programs. Yet instead of a curricular approach or artist-rental model, the studio is anchored by grant-funded programs that allow GoggleWorks to innovate its arts applications. The VR partnership project with St. Joseph and Berks LaunchBox is made possible by grant support from the Community General Hospital Healthcare Fund at the Berks County Community Foundation. "The Berks County Community Foundation enriches our community," said Landis. "I am repeatedly impressed by their support and encouragement of outcomes-based projects that impact our community in meaningful ways."
The project team intends to integrate measurement tools into the software, which will help test and reconfigure the design and which could aid in future healthcare research. Subsequent phases will allow the partners to pilot test the program in a patient care setting. "This partnership will address a critical problem using the latest cutting-edge VR hardware and CrossTrainer Mixed Reality's proven education and training platform," said Kris Jackson, GoggleWorks VR Lab Manager and Co-Founder of CTMR. "It's exciting to be a part of Reading's innovative future!"
Located in downtown Reading, PA, GoggleWorks operates in a former goggle factory and is composed of 145,000 square feet of creative space. GoggleWorks offers year round arts education, including workshops, classes, and visiting artists; community outreach programs; a summer residency; youth programs and camps; 35 on-site studio artists; the Albert and Eunice Boscov Film Theatre; a restaurant and bar called The Den by Sly Fox; three galleries for exhibitions; the Berks LaunchBox maker space; the headquarters of over 40 other dynamic partners; and eight communal studios-hot glass, wood, 2D print, warm glass, metals, ceramics, photography and virtual reality. Learn more at www.GoggleWorks.org.
About Penn State Health St. Joseph
Penn State Health St. Joseph is a nonprofit health care network of more than 150 physicians and mid-level providers across most specialties and includes an ambulatory and urgent care network that serves the 417,000 residents of Berks County. As a teaching hospital, St. Joseph offers a 3-year family practice medical residency program, and is a clinical training site for several college and university nursing and allied health professional degreed programs. St. Joseph has nearly 1800 employees, $250 million in annual operating revenue and registers about 47,000 emergency room visits and roughly 7,500 inpatient admissions annually. St. Joseph joined Penn State Health in July, 2015. St. Joseph has national accreditations for its centers of excellence for Chest Pain, Stroke, Heart Failure and Cancer Care. www.TheFutureOfHealthcare.org
CrossTrainer® Mixed Reality LLC is a joint venture created by top industry professionals to offer next-level augmented and virtual reality technology to the training industry. By combining cutting edge tech with proven training methodologies, they create immersive mixed reality solutions that clients can immediately integrate into their curriculum. www.CrossTrainerLearning.com
About Penn State Berks LaunchBox
The Berks LaunchBox represents a collaboration between Penn State Berks and Penn State Health St. Joseph to engage students, faculty, physicians, medical staff, and the community in helping grow the economy and improve the quality of life in the greater Reading area. The signature programs of the Berks LaunchBox are being implemented in collaboration with business and nonprofits across the community. www.BerksLaunchBox.psu.edu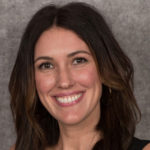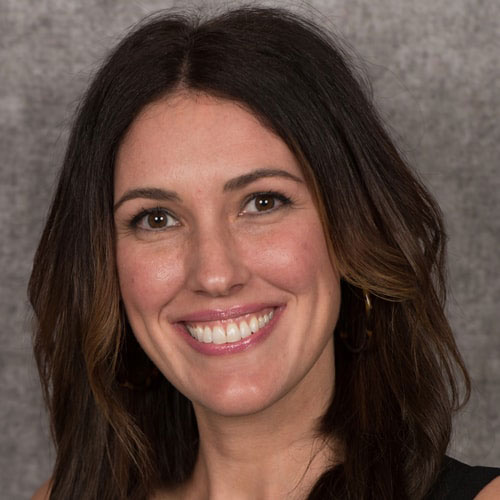 Shared by Heather Boyle,
03/05/2020